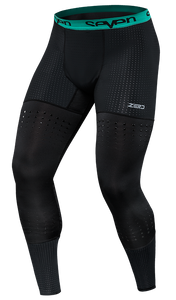 The Seven Youth Zero Compression Pant is made of moisture-wicking performance material that pull's moisture away from the body to keep you cool and dry. It features an athletic compression fit that holds muscles tight to reduce unnecessary muscle movement or shaking that results in loss of energy. Best paired with our 
Zero Compression Roost Guard
.
To see more in the Zero collection, click 
here
.
TECH FEATURES
// Athletic compression fit holds muscles tight to reduce unnecessary muscle movement or shaking that results in loss of energy.
// Muscle compression also promotes blood and oxygen flow which aids in quicker muscle recovery allowing for muscles to work at a higher rate for longer periods of time.
// Moisture-wicking performance material construction pull's moisture away from the body to keep you cool and dry.
// Stretch mesh panels in the bodies high heat zones help to regulate body temperature.
// Silicone dot gripper tech print in key areas for added grip on knee braces and inner pant liner