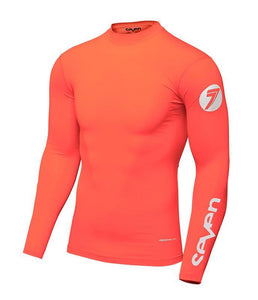 The Zero Compression Jersey was designed to give athletes unmatched energy saving support with cooler body temperatures. It's part of a two-piece jersey unit, usually worn under one of our Zero Over Jerseys, that will give you unmatched performance while racing the best in the world.
To see more in the Zero collection, click here.
TECH FEATURES
// Athletic compression fit holds muscles tight to reduce unnecessary muscle movement or shaking that results in loss of energy
// Muscle compression also promotes blood and oxygen flow which aids in quicker muscle recovery allowing for muscles to work at a higher rate for longer periods of time
// Ultra-lightweight moisture-wicking performance material construction pull‰۪s moisture away from the body to keep you cool and dry.
// Garment cut for resistance free mobility.